In my last article, I wrote about the Snap IPO and how other fairly recent IPOs performed after going public. The results, for the most part, weren't too impressive. To get a better understanding of how IPOs have done over the last two decades I back tested the IPO screener to go back all the way to 1998. You can clearly see that the IPO market has been a tough one, besides the spike at the turn of the millennium – and a spike of that kind of stature is almost always a bad thing. With relatively low inflation in the 90's paired with sliding interest rates, it made for a great stock market environment.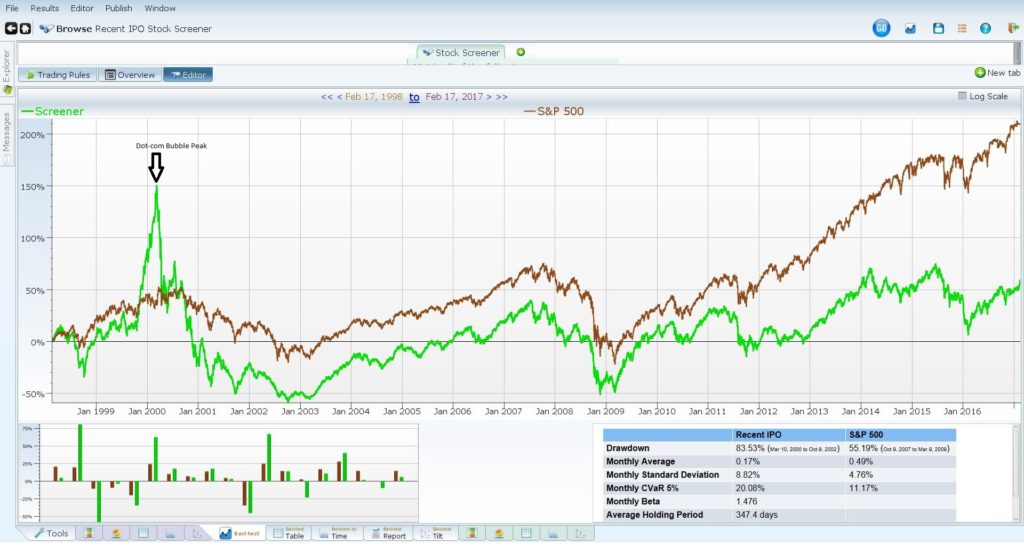 Many large financial institutions saw this strong growth environment with the tech boom and artificially inflated many tech companies valuations. Regardless, many tech executives at the time saw strong momentum for their sector and did not want to miss out on this trend, making the year 2000 the most popular year for IPOs of the millennium so far. Wall Street analysts were slapping BUY ratings on tech and dot-com companies they knew weren't worth near their market valuation and the bankers took huge profits. The people who were hurt the most by this were the average investors who were at the time willing to invest money into just about any dot-com company. The main cause of this massive investment speculation was the internet. Investors saw an unlimited amount of potential for young internet companies and they wanted to get in on what they thought was the deal of a lifetime. For example, Books-A-Million saw their stock soar over 150% in one day alone (See Below) simply by announcing an updated website. This was an unhealthy business environment and is one of the best examples to show how ridiculous the dot-com boom and crash was. Many of the IPOs that get a lot of media attention today are design driven such as Snap, Square, and Twitter, while hardware companies may seem less attractive but could have more potential value.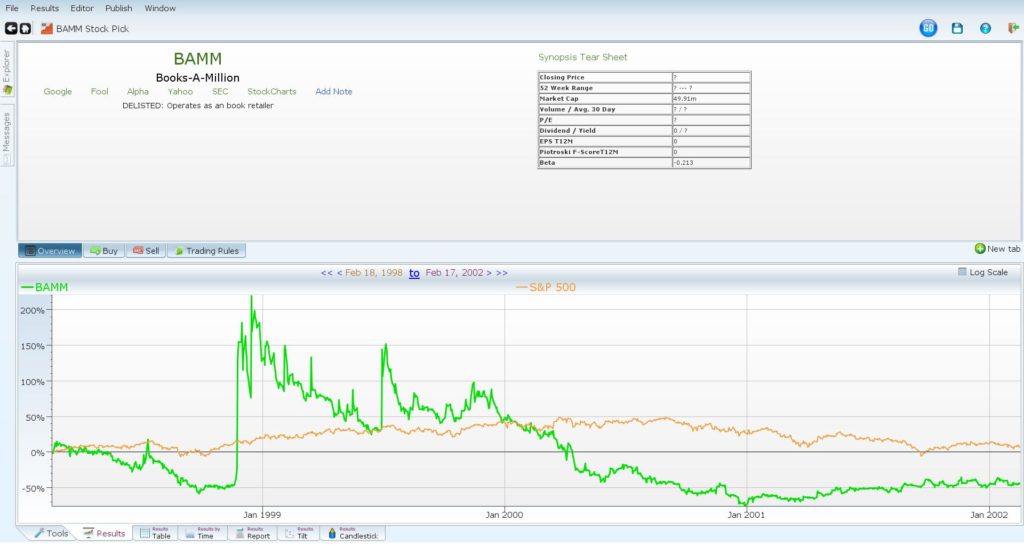 To better visualize how these companies performed let's take a look at the Scatter Plot feature of Equities Lab. You can clearly see the majority of the companies showed a sharp return or drastic loss, but as a whole did not grow their market cap very much. This is an odd pattern which raises another red flag for the IPO market. A rapid increase in a stock's price with little change in market cap shows a sign of unsustainable growth and is an investment to avoid. It's important to remember when investing that your goal shouldn't be to get rich quick because that's more than likely NOT going to happen. Some IPOs have shown great results, but it takes time for a company to adjust from a private to a public business environment.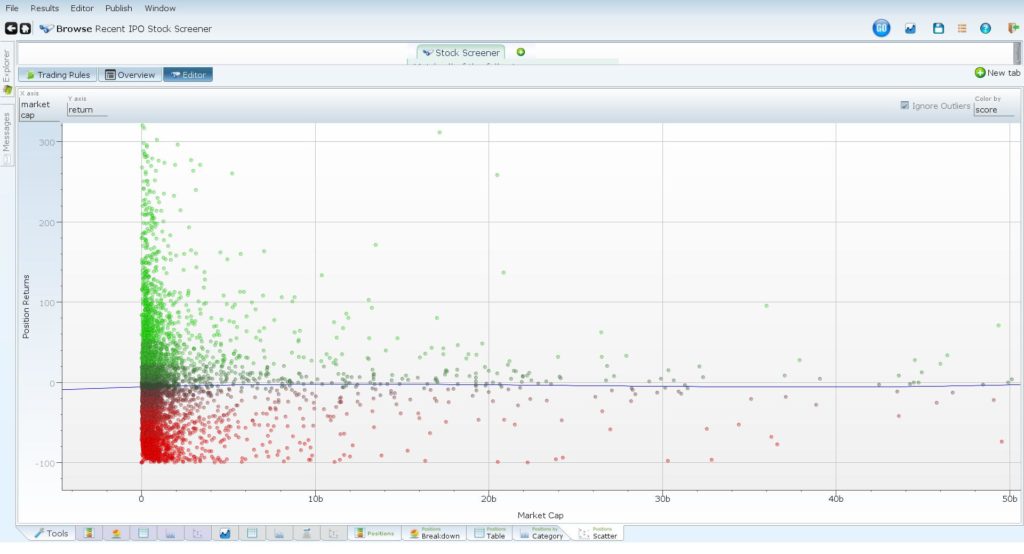 The dot-com bubble forced all sorts of companies to sink or swim. Amazon, for instance, took quite a heavy hit when the bubble burst, going from $107 a share down to just $7 a share. Once the bubble burst this allowed young companies to reinvent themselves into something completely new or just a better version of themselves. Amazon was able to bounce back from a heavy blow and benefited from interest rates being cut to at the time a historical low after 9/11.  Since then Amazon has gone from "an online bookstore" to the largest internet retailer in the world reeling in billions of dollars in revenue year after year becoming a global business empire.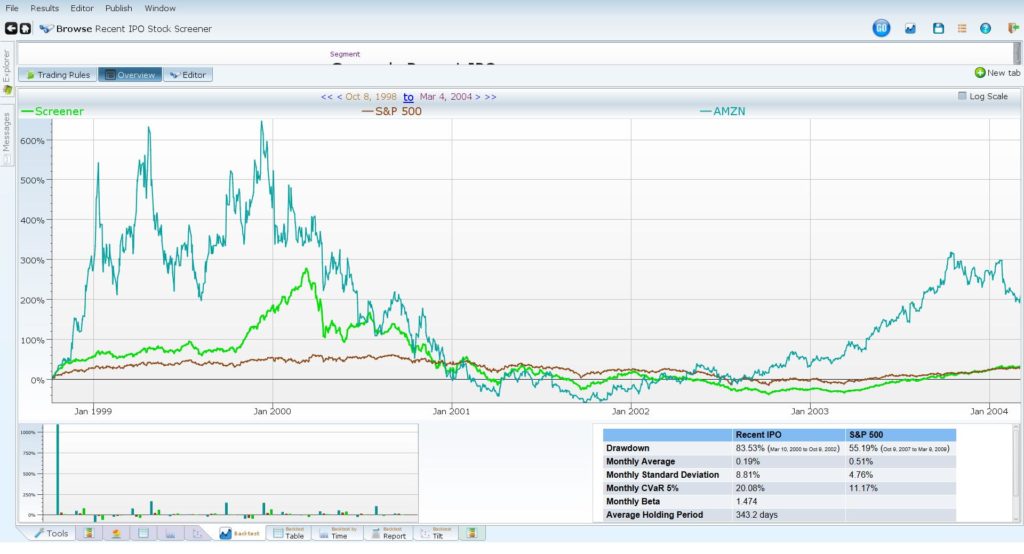 Using historical back-tested data on the Equities Lab screener you could easily see that an S&P index fund would more than likely get you a better and safer return than investing in an IPO. All in all, it's safe to say investing in an IPO is a risky investment and it comes down to your personal investment philosophy. I personally avoid IPOs and stick to more well-established companies with less risk. If you are however investing in an IPO, it is important you fully understand the valuation of that company and have a plan B ready if things don't go as you expected.