Debt, a word that consumers and college students know all too well. How do companies view debt, and how does it affect their stock price? Let's find out by taking a look at both high-debt and low-debt companies.
High Debt
This screener finds companies with a debt to equity ratio ranking them in the top 25% of the market, total liabilities to assets ranking in the top 25% of the market while outperforming by 2%. Debt-laden companies have more pressure under them to perform well in order to please their shareholders. They also have to avoiding drowning in their own debt, a strong incentive in its own right. Because of these factors, leveraged firms easily outperform the S&P. The iva online company has professionals who give you advice that helps you with your debts.


Looking at the companies in this screen, we notice quite a few in financial services. If you are beginner learn more about usda loans to understand the chats. The majority of these firms make money by loaning out leveraged capital, with the expectation of higher returns. Because of this, these firms don't fall into the same category as other high-debt firms. Let's see what the screener looks like without financial services.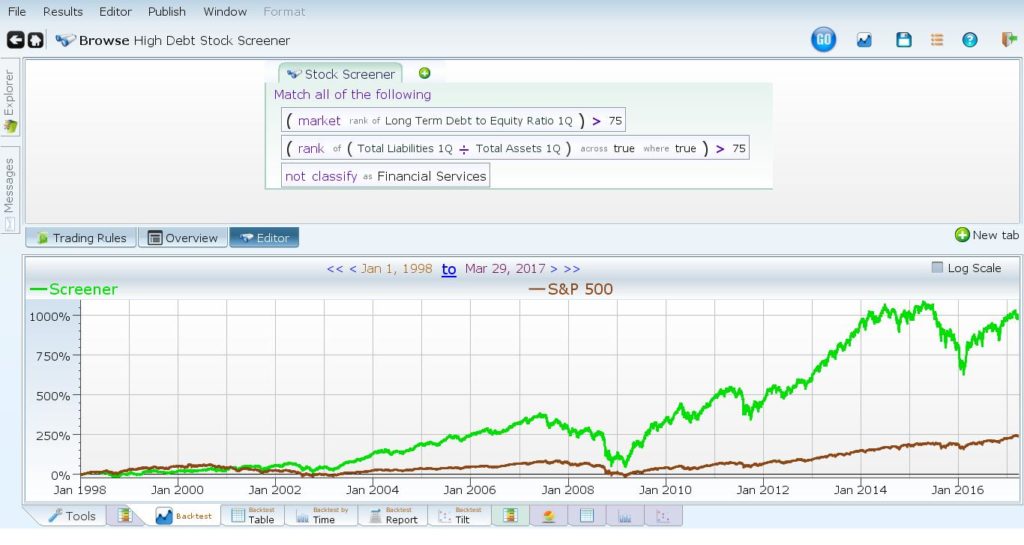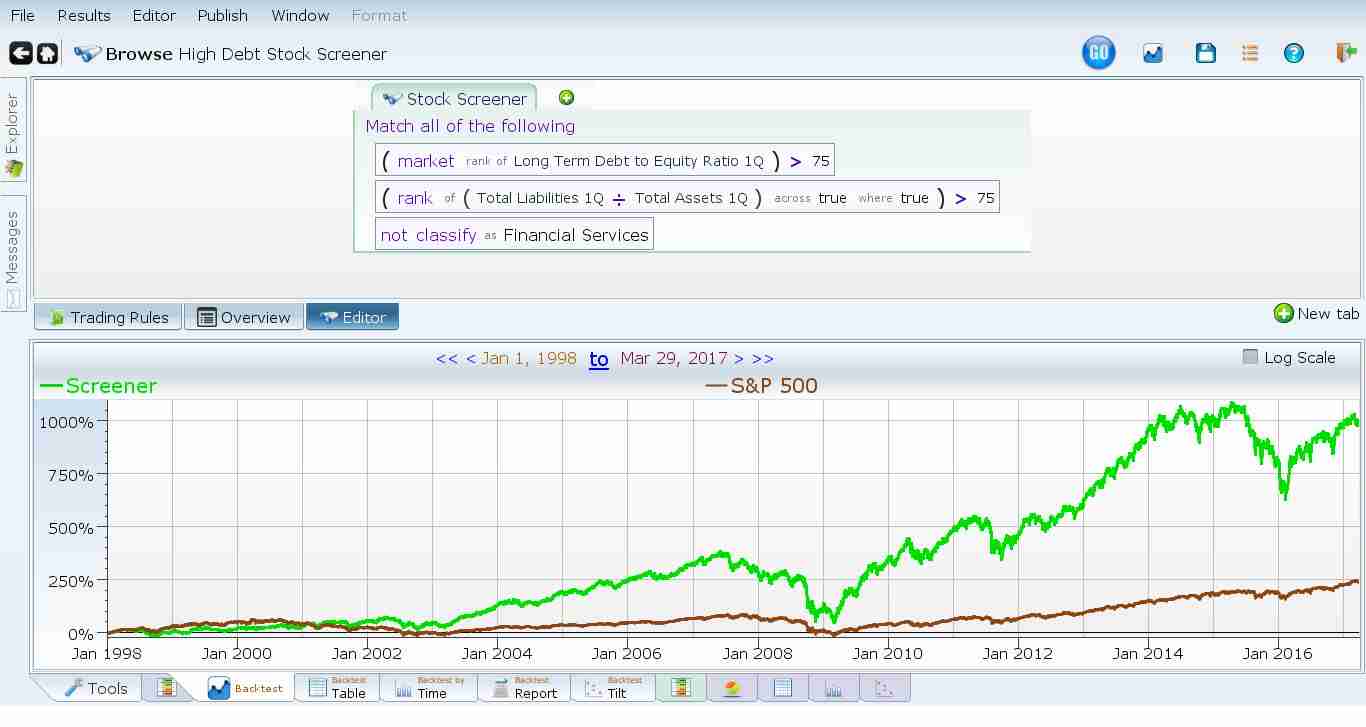 These results surprised me at first. But, after a couple minutes of analyzing, I realized why this screener showed much greater returns without financial services. The majority of the gains occurred after the 2008 financial crisis which led to the federal reserve slashing interest rates to historical lows. These companies then thrived in this borrower-friendly environment. Fiscal and monetary policy encouraged businesses to take on debt at this time and you can see that it worked out quite well for the companies who took advantage of these low-interest rates. Also, financial service firms underwent a fair amount of regulation following the financial crisis which stunted their growth and allowed for other sectors of the economy to take off. With leaving out financial services, industrials with high debt easily showed the best returns at this time (see below).


Low Debt
Now let's take a look at the low debt screener. This screener features a debt to equity ratio ranking in the bottom 20% of the market, total liabilities to assets ranking in the bottom 20% of the market, and underperforms by 3%.


This may be the least exciting screener you've ever seen. While these companies do have low debt, they also have very poor performing stocks. To better visualize how low-debt stocks perform vs high-debt, I backtested them together. You can clearly see which of these is the better trade.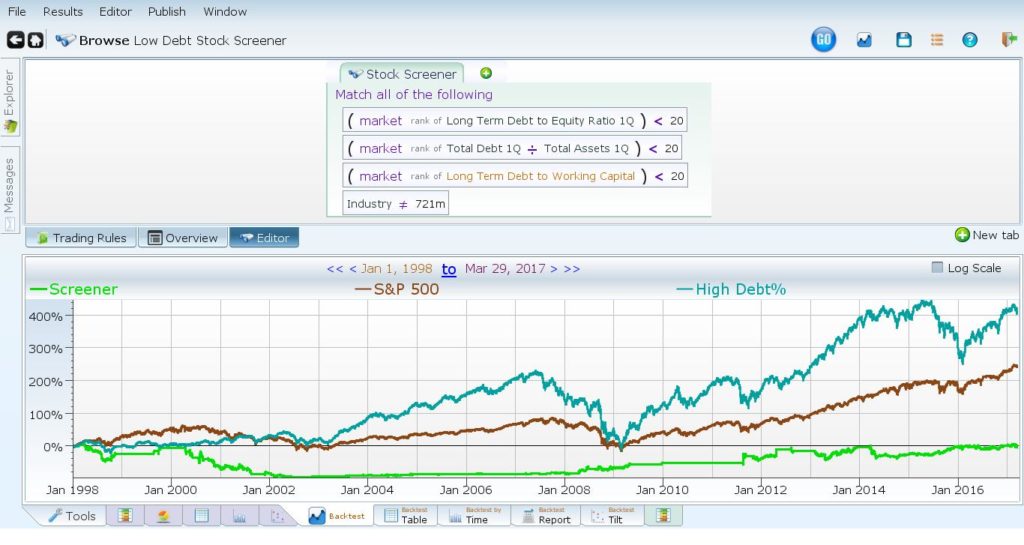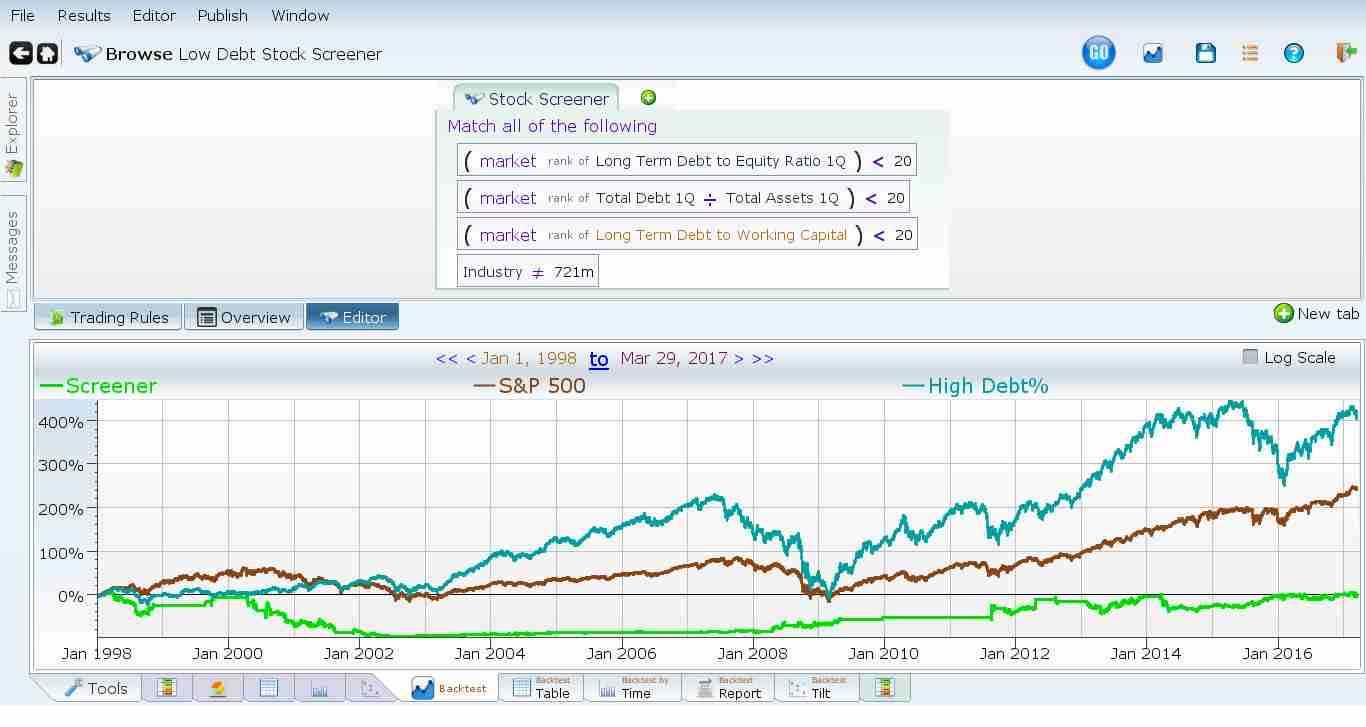 So why would a company want to remain in a low debt environment? Sometimes, they may do it just to stay alive. Barnes & Noble (BKS) was one of the companies that showed up in the screener. Barnes & Noble (BKS) once undisputedly dominated their industry, until Amazon (AMZN) came along. Barnes & Noble (BKS) most likely remains in low debt because there is no reason for them to take on debt to finance any activities. Traditional retail has lost its luster and online shopping has become more popular for American consumers. Barnes & Noble (BKS) most likely realizes this and instead shifts its business focus towards staying afloat in a sinking sector.


From the screenings, it is safe to say that high-debt companies will get you a better return. Taking on debt, when done right can lead to expanding your business to help it grow. However, with interest rates back on the rise paired with what looks like a healthy American economy could mean trouble for some businesses that have taken on a lot of debt in the past couple of years. It will be interesting to see what happens as time goes on.