Firing on all four Cylinders
The world is run by computers. Almost every field has been automated to a degree that the workplace wouldn't be able to really function without technology, and finance is no exception. With HFT firms and algorithms dictating how we trade, let's take a step back and assess the fundamentals. How integral is strong corporate performance, through the relationships between profit margin, income growth, revenue growth, and profit margin growth, to being a successfully traded company on the market.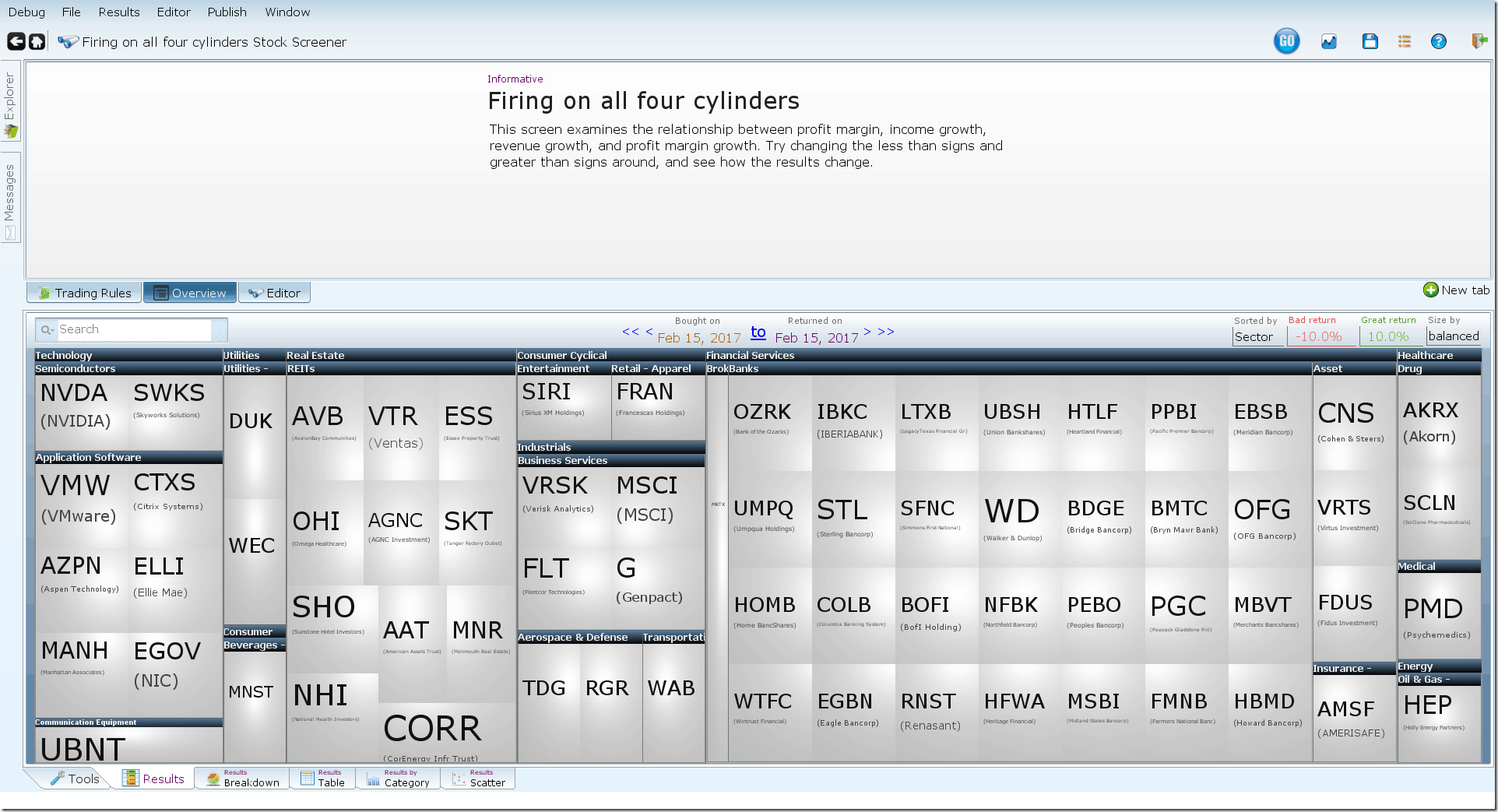 For this, we will be exploring the recently designed "Firing on all four cylinders" screen which can be found under the informative section of the Equities Lab software.
In its original state, you are able to return 69 different results. These companies have a margin of greater than 10%, a 10% revenue and net income growth over the past five years, and a continuous margin growth year after year for the past three years.
In terms of performance, we will run this as our base line. Will these factors result in a screen that outperforms the benchmark? Does any one of these factors have a significant impact on the overall performance of the screen?

That answers the first question. Apparently these parameters do in fact create an outperforming screen – resulting in a 10.63% annualized return since the year 2000. Not too shabby.
Let's go ahead and flip the script.

Changing just a few small pieces within the lines of the Equihack language will allow us to look for companies that shouldn't perform as well as before, and should even underperform the benchmark.
· Began looking for companies with a less than 10% margin instead of companies with a margin of greater than 10%
· Looking for companies whose revenue and net income has fallen over the past five years
· A company's margins are not increasing year after year.
These changes took all of five seconds, and make playing around with different strategies fairly easy.

We get a lot more results when we take a look at the "negative" side of the equation. This itself doesn't prove anything, just seemed like an interesting bit of info – especially since there are quite a few big household names on this list.

Like magic, we were right. With everything else the same, the small changes that we made to the editor gave way to a screen that proves – to some degree that this factors matter when it comes to picking what to invest in. The machines haven't taken everything over yet.
That said, we still need to figure out if any one of these parameters is the deciding factor in whether or not this screen does well. Let's go ahead and change the editor back to what we had originally and go through the parameters one by one until we have our answer.
Margin Greater than 10%
In the original screen we are only interested in companies that have a margin of greater than 10%. If we go ahead and flip that back over to only companies that have a margin of less than 10%, how does it change our results?

Well… That's a surprise. This screen gets exactly the same return, 10.63% annually, as our original screen. That may lead you to think that we should just vote this parameter off of the island, but before you hit that button, there are more things to consider.

Under this new screen, we seem to rely on heavily on the returns of just a few years – 2001, 2009, and 2013 to be exact. This screen hasn't really beaten the market or given consistent earnings in the past few years. I may be a risk taker, but I at least like my risks to be consistent.

Comparatively, the original screen doesn't seem to keep its returns in any one year. You consistently beat, or keep up with market most years in this time period.
Increasing Revenue and Net Income Growth
I know that in the editor that these are two separate fields, but they're numbers are correlated to some degree so we are going to adjust both at the same time.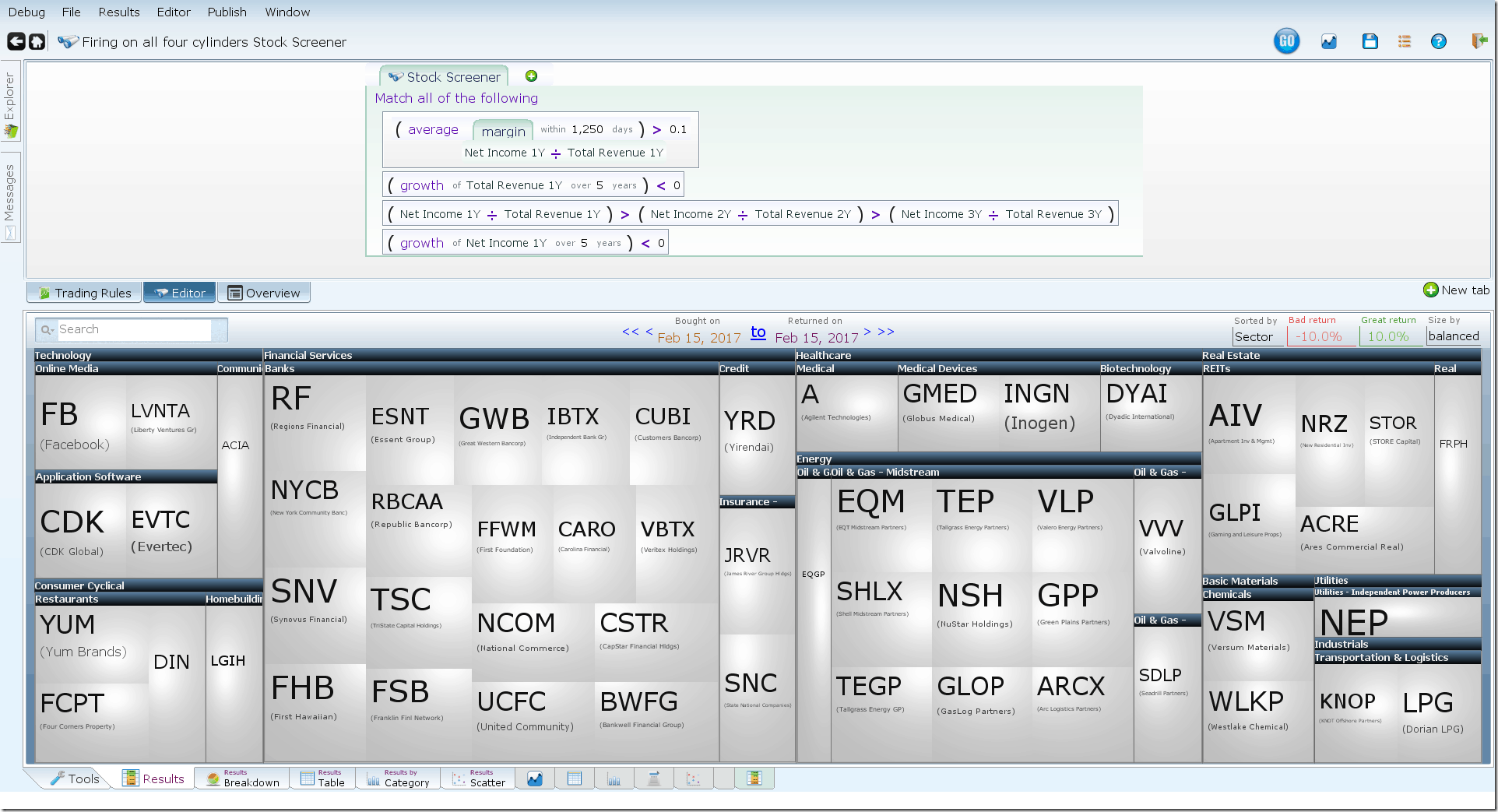 Like before, there are some interesting names on here that we all know and love. So how does this small change really affect the results of the backtest?

Again, the results are surprising, but not for the same reasons as before. The annual returns do drop a bit down to 9.69% with new real change in the monthly standard deviation of the strategy – making the first strategy a better bang for your risked buck. What surprises me is that companies that have a high margin, and have a growing margin over the past three years, still performs exceedingly well even when you make it out so that only companies who are bringing in less money than they did 5 years ago.
Increasing Margins over the past three years
There are two ways to go about making this change. Firstly, you could make it so that you are only looking for companies whose margins have been decreasing over the past three years. Or, you could simply look for companies whose margins aren't increasing during this time period. You'll get different results for each, and one may be more telling than the other. For the purposes of this article, we are just going to focus on option two as it requires less adjustment to the overall line in the editor.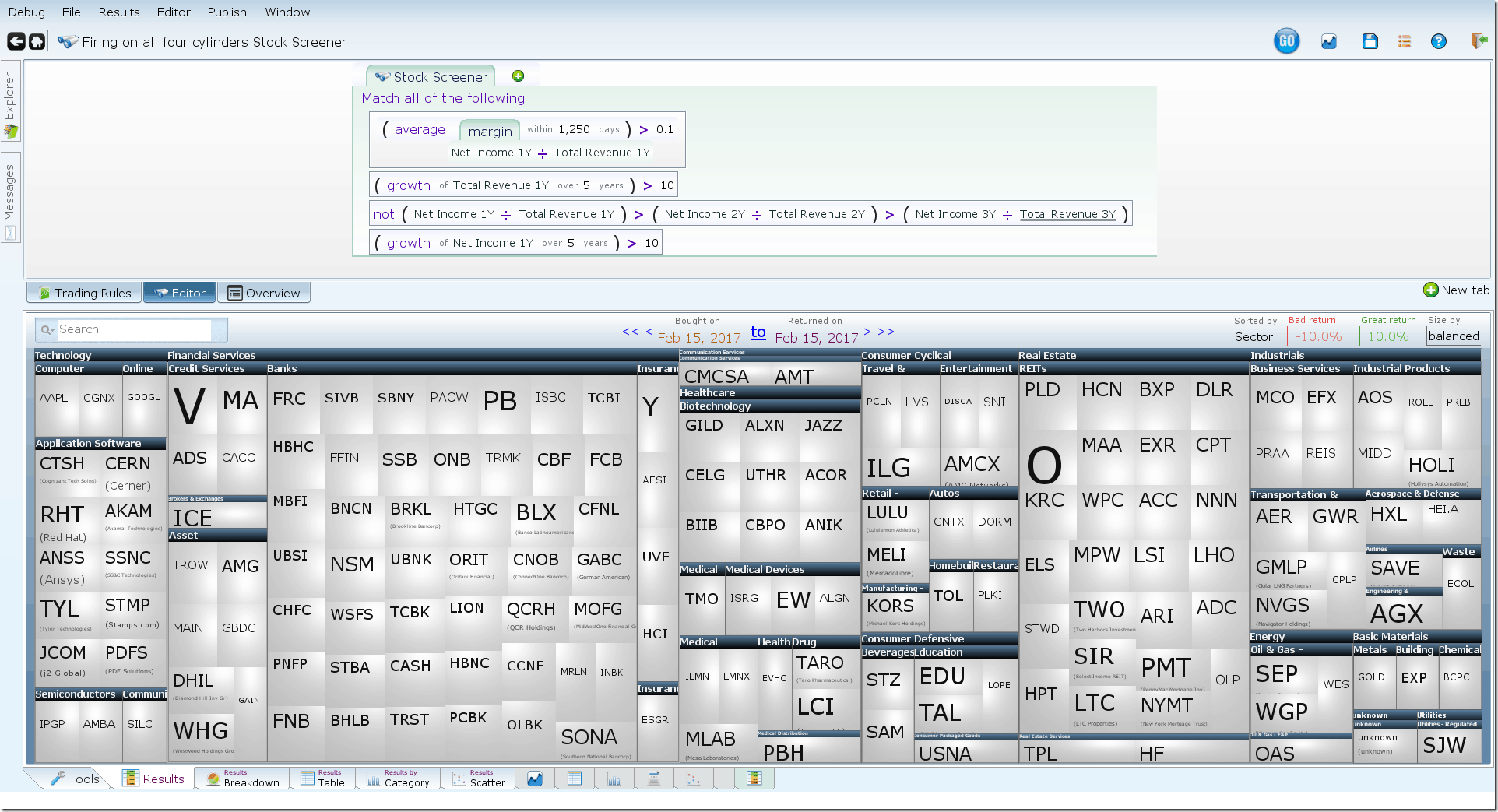 If you can't see it, the only change we made was writing the term "not" in front of the line in the editor that we wanted to change. Like the other adjustments we are offered with a fairly large array of companies, some of which are household names of products that we use every day.

Again, like the others, this simple change still outperforms the market. It takes another hit to the return – now at 8.26% annually – but the monthly standard deviation has also fallen making the bang for the risked buck a little be more appealing. You don't get all that consistent returns, but you don't do horribly in this time span.
Overall
This article was a little bit longer than I originally intended, but I feel like we were able to successfully explore and come to a conclusion on whether or not these fundamental factors of whether a company is making money is important to the overall performance of that company within your portfolio.
It seems that no single line within the editor was a "dark horse". Rather, each parameter worked as part of a whole to really build a screen that performs over the long run, and when you change the base idea behind the screen by flipping it, you are able to see that the factors within that screen matter.