PLEASE NOTE: This article was written based on obsolete data and is currently under review–2019-01-10
Since the release of his book "Predicting the Markets of Tomorrow: A Contrarian Investment Strategy for the Next Twenty Years" O'Shaughnessy has become one of the most trusted names in stock screening. His most powerful, and undoubtedly best performing screener, is known as Tiny Titans.
Tiny Titans focuses on low-price micro-cap stocks. There has been much research done on the topic of investing in this area and this sector has continuously been shown to outperform the overall market.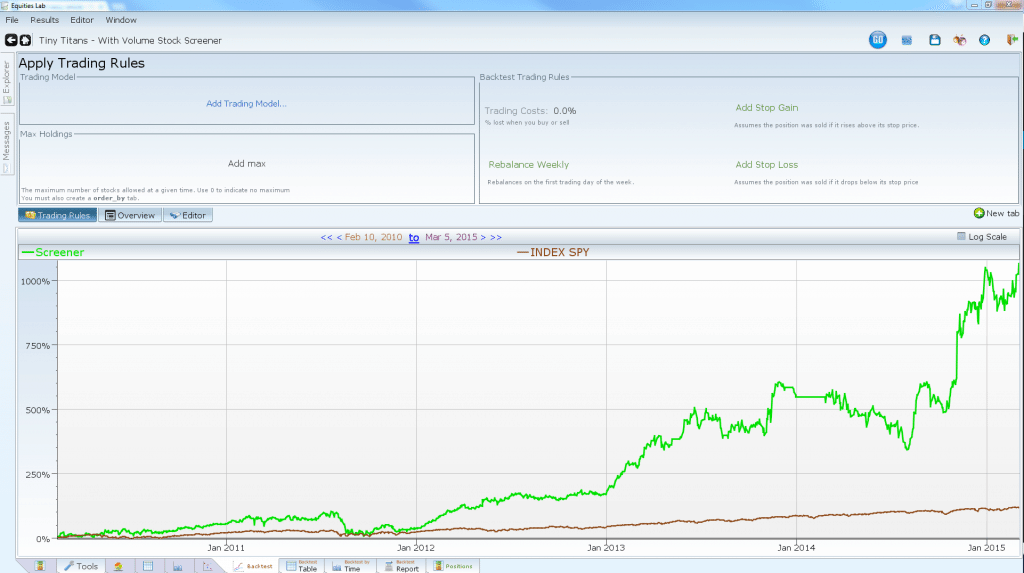 O'Shaughnessy believes that this out performance occurs because analysts aren't typically following micro-cap stocks, and institutions such as mutual funds are unable to trade these stocks without moving the price. For this reason, micro-cap stocks have very little correlation with the overall market which opens up the possibility to use them as a hedging tool in a portfolio of larger stocks.
O'Shaughnessy Tiny Titans Screen Overview
Market Cap < $250 million
Price to Sales Ratio  < 1
The stock's momentum is in the top 15% of the market over the past year
The stock must have a Piotroski F-Score T12M greater than 6
The average dollar volume over the past 20 days must be greater than 250,000
This test can be implemented on any one stock; however, it can be a time consuming process to check each individual stock by hand in order to verify whether or not the criteria of the screen are matched. Thankfully, there are multiple screeners, such as Equities Lab, available that will test the entire market at the same time and give you only the stocks that fit the screen.

So How Does it Perform?
The O'Shaughnessy Tiny Titans Screen  is by far one of the best performing strategies to use when investing in micro-cap stocks.It performs so well that since January 1st, 2000 you would have made over 11000% if you had only invested in stocks that fit this criteria.
What's even better is that unlike the typical day trading that small caps are associated with this investing style is almost completely hands off. The test you see above is based on a quarterly rebalance. This means that you have to make trades once every three months, taking the stress out of trading.